Covid Testing Scandal
We knew at the start of March, the key to stopping the spread of Covif-19 was to "test, test, test".
So why was community testing stopped on March 12th, and why have we not had details of testing numbers for almost two months?
"It had nothing to do with it not longer being appropriate to test. You just didn't have enough tests so you have them all to the NHS. But there you have Jenny Harries telling us it wasn't an appropriate mechanism. Now we know from Robert Buckland that was a lie" – Piers Morgan.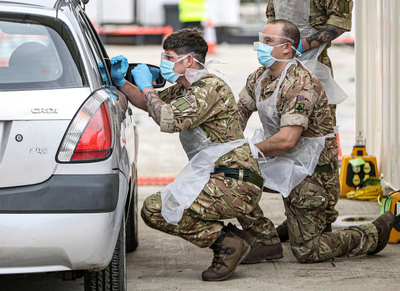 Contact tracing was halted on March 12th due to a huge testing capacity shortage.
Even frontline NHS staff and people in care homes weren't able to get a test.
On March 26th, Jenny Harries said community testing was "not an appropriate mechanism as we go forward".
There are two crucial issues here:
1) Why were the public not being not told the real reason for changing testing policy?
2) Why was there such a lack of capacity when the UK had had two months to prepare?
On March 13th, Channel 4 News showed how the UK was exporting tests!
On May 6th, Kier Starmer asked Boris Johnson "we were told in mid-March contact tracing had been abandoned because it was 'not an appropriate mechanism', but yesterday DCMO said it was to do with testing capacity. Could the Prime Minister clarify the position?"
He couldn't!
In response to Kier Starmer's simple question at Prime Ministers Questions – "Why was community testing for Covid-19 stopped in 12th March?" – Boris Johnson does not say it was down to lack of test capacity.
His reply is somewhat garbled, but the Prime Minister does say "it was no longer useful or relevant".
When Chris Whitty announced the decision to "pivot" away from community testing on March 12th, it didn't make sense.
Testing is crucial not only to contain Covid, but also to give a clear picture of what's going on, in order to get out of lockdown safely.
Accurate mass testing is vital.
But is it being done?
We get figures of "test done" each day, but this includes home tests sent out.
When Matt Hancock said we'd done 122,000 tests on April 29th, up to 40,000 were home kits.
On February 24th, government advice said "patients cannot self-test".
The government are now encouraging home testing. On May 16th, it seems 40,727 of the 74,487 tests "done" were hoe kits sent out.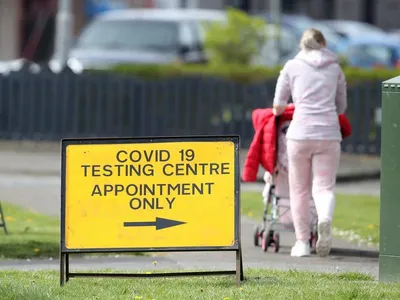 But there are concerns these home tests aren't being done properly, and even the instructions on the government's website are incorrect.
Unlike the video on the government website, doing a Covid-19 swab test is not pleasant.
It involves swabbing the tonsils and the back of throat, stimulating the gag reflex, and pushing the swab as far up your nose as it will go until it hits bone, whilst swivelling.
On May 15th, The Times reported that "the number of false negative results from Coronavirus swab tests could be as high as 30%, which would allow the spread of Covid-19 and "compromise UK's ability to exit lockdown safely".
It may explain this graph, showing testing is up, but positive tests remain the same.
The issue of home testig kits and whether they are being administered correctly is of vital importance.
On May 20th, the government announced that they "did" 177,216 Covid-19 tests the day before. Of those, a massive 80,478 were kits posed to peoples' homes. Only 60,744 people were tested.
So, as of May 20th, tests are being sent out with a 30% false positive result, community testing was halted, Covid-19 positive people were sent to care homes, schools may open without contact tracing in place, "Be Alert" messaging caused confusion, and masks aren't mandatory.
Why?
This sawtooth chart by one the Dutch government's scientists leaders from their Covid-19 strategy shows a series of "yoyo-lockdowns".
Some claim this is a strategy to allow the infection to pass through the population in order to try and reach herd immunity.
A number of seroprevalence studies, that look for antibodies to Covid-19 and assess overall level of population exposure, have been done. They suggest that outside of cities like New York, overall infection rates and exposure remain relatively low.
We're a long way from herd immunity.
SAGE evidence, from March 23rd, recognises that "major import" of Covid-19 came from Europe, "notably Italy".
Had there been proper screening at airports, or any proper quarantine or tracking measures, this might have been avoided.
The UK still has no Covid measures at airports.
Back in late February/early March, people were asking why we were allowing flights to arrive from Covid-19 hotspots with no checks.
On March 9th, Oliver Dowden repeatedly claimed cabin crew were checking passengers for Covid, and people arriving in the UK were "tracked".
Despite all that we knew about the disease in Febraury, and despite the fact that the UK had a 3 week head start over Italy, people were allowed to go skiing in Italy and return without checks.
But the Deputy Chief Medical Officer says there've been quarantine measures since February 30th.
Professor John Newton, leading the government's testing programme, says "certainly more than half" of home test kits made it to labs for tests to be completed.
The government counts tests when they are posted, therefore a huge number were counted, but never carried out.
On June 21st, the BBC's Nick Robinson asked Matt Hancock why testing figures hadn't been published for over a month. It's a straightforward question that we have been asking since mid-May. Hancock is unable, or unwilling, to offer an intelligible answer.
The Department of Health concedes that the initiative to trace contacts of people with Covid-19 was launched without carrying out an assessment of its impact on privacy. The initiative has been unlawful since it began.