This article is based on an August 2, 2020 Twitter thread by Stefan Simanowitz
On 19 March, with the UK still not locked down, I noted that the role of #DavidHalpern & his Nudge Unit is key to the ever-growing #HerdImmunityScandal It was widely assumed the Unit had come up with the idea of #LockdownFatigue / #BehaviouralFatigue
When the full story of the #HerdImmunityScandal is written, the role of the govt-funded Behavioural Insights Team ('Nudge Unit') who reportedly lead on the #coronavirus response, will be key. Here their head, David Halpern, explains #herdimmunity.
Ignoring the horrific evidence from Italy & advice of @WHO & their own behavioural scientist group (SPI-B), the govt - supported by Vallance & Whitty - pushed out this absurd idea that if we locked down in early/mid March, people would get bored. The media didn't question it.
On 14 March, 700 behavioural scientists published an open letter calling out #LockdownFatigue as cod science It would later emerge that earlier in March, Spi-B & SAGE had said there was limited evidence for the idea of #BehaviouralFatigue. Clearly, the Government ignored the Science.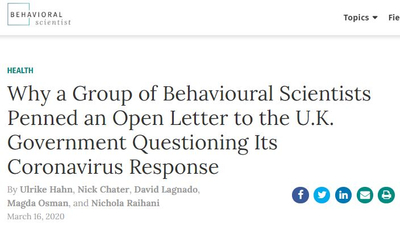 It later emerged that, on 21 Feb, NERTAG had warned the Government that, without action, there could be 1.3m deaths 4 days later, modelling showed NHS beds would be overwhelmed. Yet on 23 March, Faculty were still proposing to assess the impact of #herdimmunity.
When questioned on 9 June whether the idea of #LockdownFatigue had come from him & the Nudge Unit, #DavidHalpern couldn't remember with confidence. "It did not, in my memory, come from SPI-B or us", he says, his eyes darting. Memory loss is becoming a recurring theme.
The investigation into who was responsible for the idea of #LockdownFatigue had hit a dead end As with all the multiple #COVID19 scandals, no one recalls who made the final decision no proper minutes were kept But this week, @newsnight aired this previously broadcast clip!