An article based on a Twitter Thread by Stefan Simanowitz on July 25th.
How are Trump and Johnson, Cambridge Analytica and Palantir, Covid and election meddling linked? Read this thread.
Hours before recess, PM quietly announced that Downing St had taken control of the Government's use of data. Trump did exactly same thing in the US last week. This is not a coincidence! It is part of a single, coordinated US-UK strategy. Now I know this may sound counter-intuitive, but I ask you read to the end of the article and also ideally this thread, with tweet no. 32 featured below.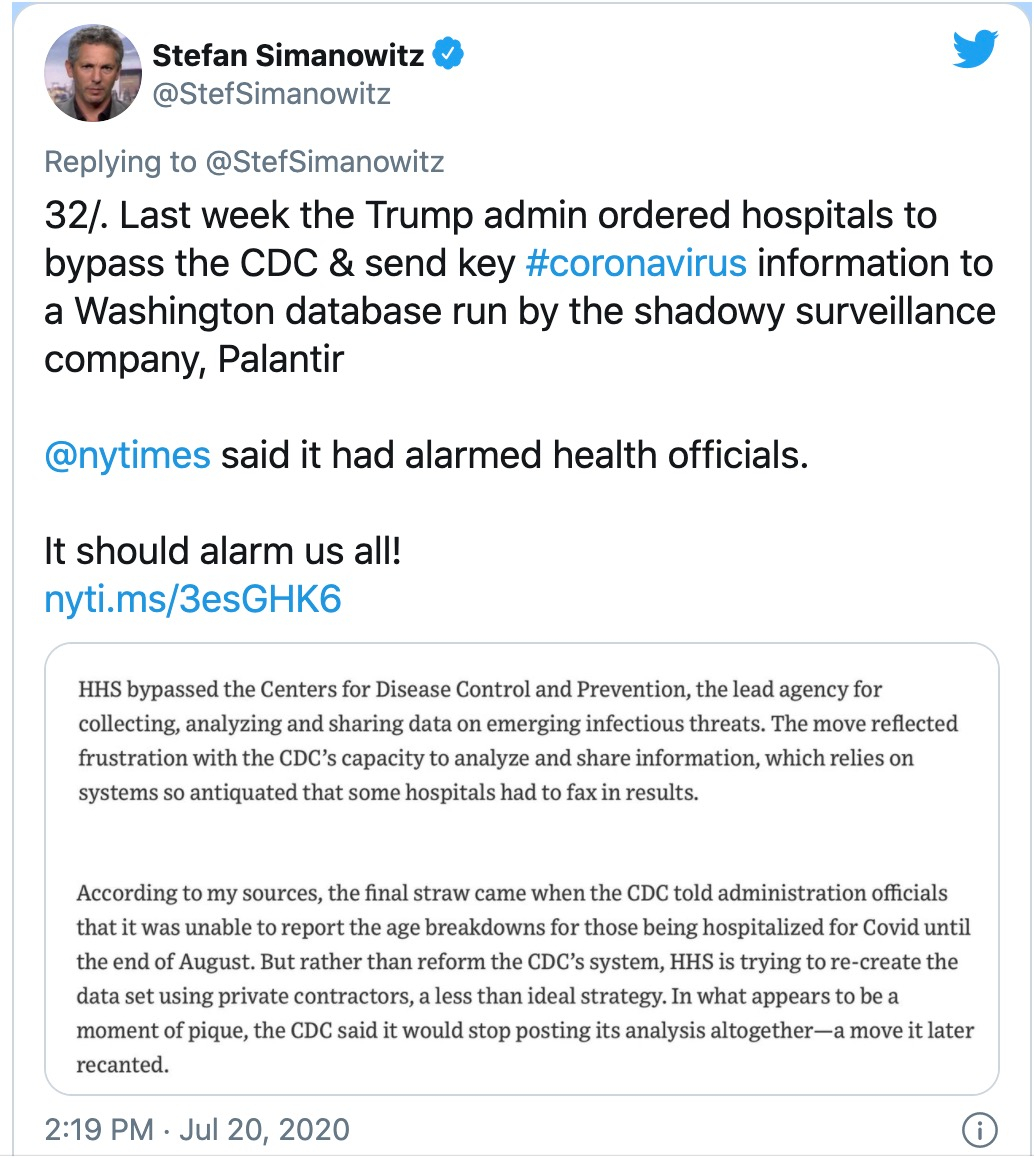 I don't pretend to have a single clear explanation, but I believe I have part of it. Everything is fact-based. Only very occasionally do I speculate.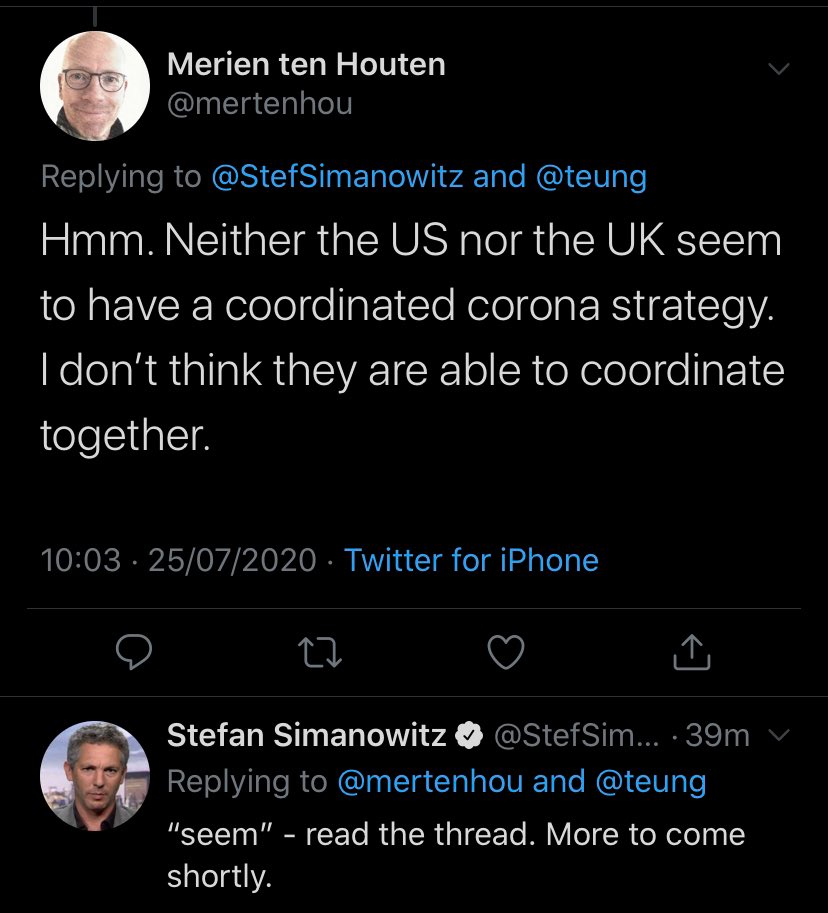 In May, Amnesty warned: "The shadowy data-mining firm Palantir, whose technology has powered some of the most nefarious immigration abuses, is now collecting troves of health data about all of us. Palantir is running US & UK govt's #COVID platforms.
#Palantir, run by right-wing billionaire Peter Thiel, won a $7.5m contract to build the #COVID digital platform for US Health Dept (HHS) in April. They won a similar contract in the UK for the NHS in April. This contract has just been extended for £1m.
On 8 July, Boris Johnson announced that SAGE had been sidelined & in favour of the secretive Joint Biosecurity Centre (JBC) which has taken over UK's Coronavirus response. It is led by Clare Gardiner, a cybersecurity expert seconded from govt's GCHQ.
Six days later, on 14 July, the Trump admin ordered hospitals to bypass the CDC & send all #coronavirus data to a Washington database run by the company, Teletracking, & to "HHS Protect", run by #Palantir. @nytimes said it had alarmed health officials.
Whilst journalists & politicians in the US are starting to ask questions about Palantir's role, this isn't happening in UK. 30 members of Congress, including @ewarren & @JulianCastro, just called for greater transparency on how Palantir will use data.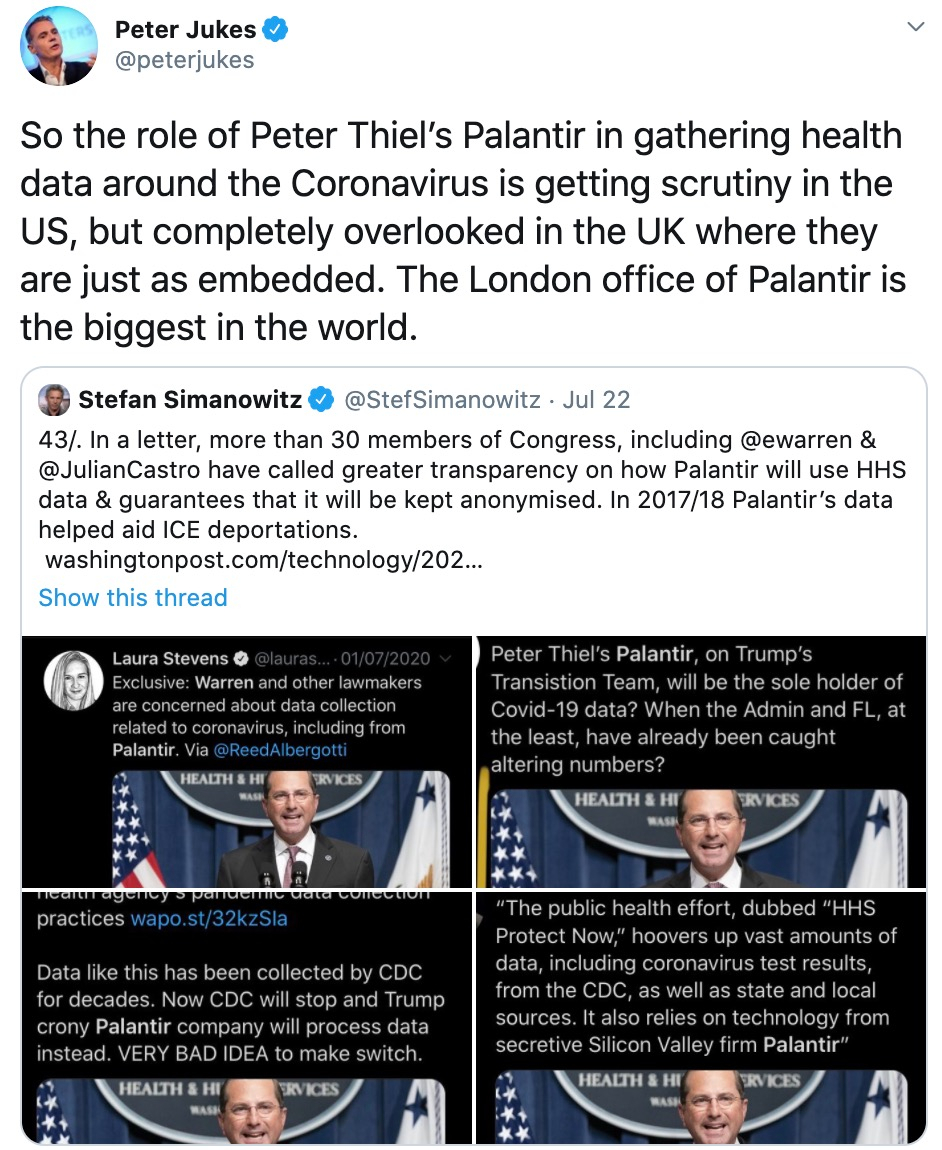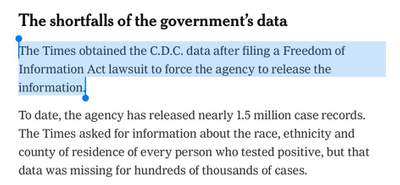 Information about these Palantir contracts was not disclosed by the US & UK govts without a fight. In the US, @nytimes had to sue the @CDCgov under the Freedom of Information Act & in the UK the Government only revealed contract details on the eve of a lawsuit brought by @openDemocracyUK.
In the weeks since the US HHS took over from the CDC, much of US's #COVID19 data has become inaccessible. Similarly, the UK Government stopped sharing data on testing in mid-May. Asked why, ministers seem unwilling or unable to offer an intelligible reason.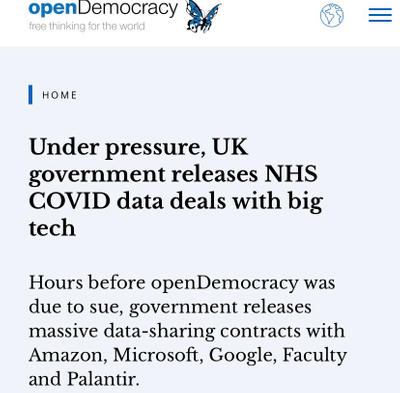 Palantir was awarded the NHS & HHS coronavirus contracts without a competitive tender. The UK Government say #Palantir & #FacultyAI (the British company working on the digital platform with them) "did not need to bid" because of pre-existing NHS contracts.
The pre-existing £250m NHS contract to build an AI Lab, had been signed with #FacultyAI in August 2019, but was only publicly announced on 13 March. #FacultyAI was set up by Ben & Marc Warner. They worked on Conservative election & Leave campaigns.
It was reported that a £400K contract awarded directly to Faculty allows them to analyse social media data, utility bills & credit rating scores. Details are unknown because the published contract was partly redacted. Ben Warner joined No.10 in 2019. He sat in on 13 SAGE meetings.

The contract with #Palantir & #FacultyAI to build a "Covid Data Store" for the NHSX - the NHS's digital unit - permits processing data including:
racial origin
political affiliations
religious/other beliefs
criminal records
mental health info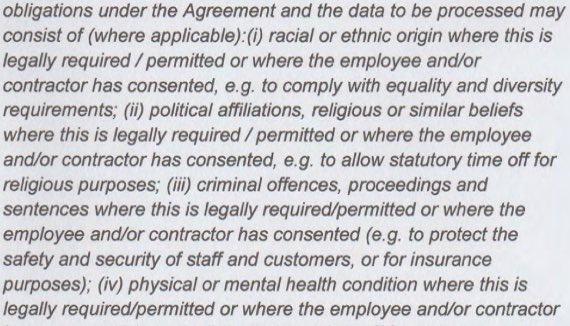 Since taking #coronavirus data-collection responsibilities away from the CDC & giving them to the HHS, it seems that data on #COVID19 hospitalisations has become "unstable" with some states posting that their figures are "incomplete".