SAGE Scandal
Based on a Twitter thread by Stefan Simanowitz
Despite claiming to be "following" or "guided" entirely by the science, the government's Covid-19 strategy excluded public health experts entirely, manipulated scientists, and in July side lined SAGE altogether.
In April, expert Doctor Bharat Pankhania expressed his doubts to Afua Hirsch and Paul Mason on the Covid Report: "I do not see the names of prominent consultants in communicable disease control at the top table… I have a feeling this is a systemic thing [resulting from] top down control".
His claim that top scientists in the field aren't advising the government is worrying, as is the top down nature of the UK's Covid-19 Strategy.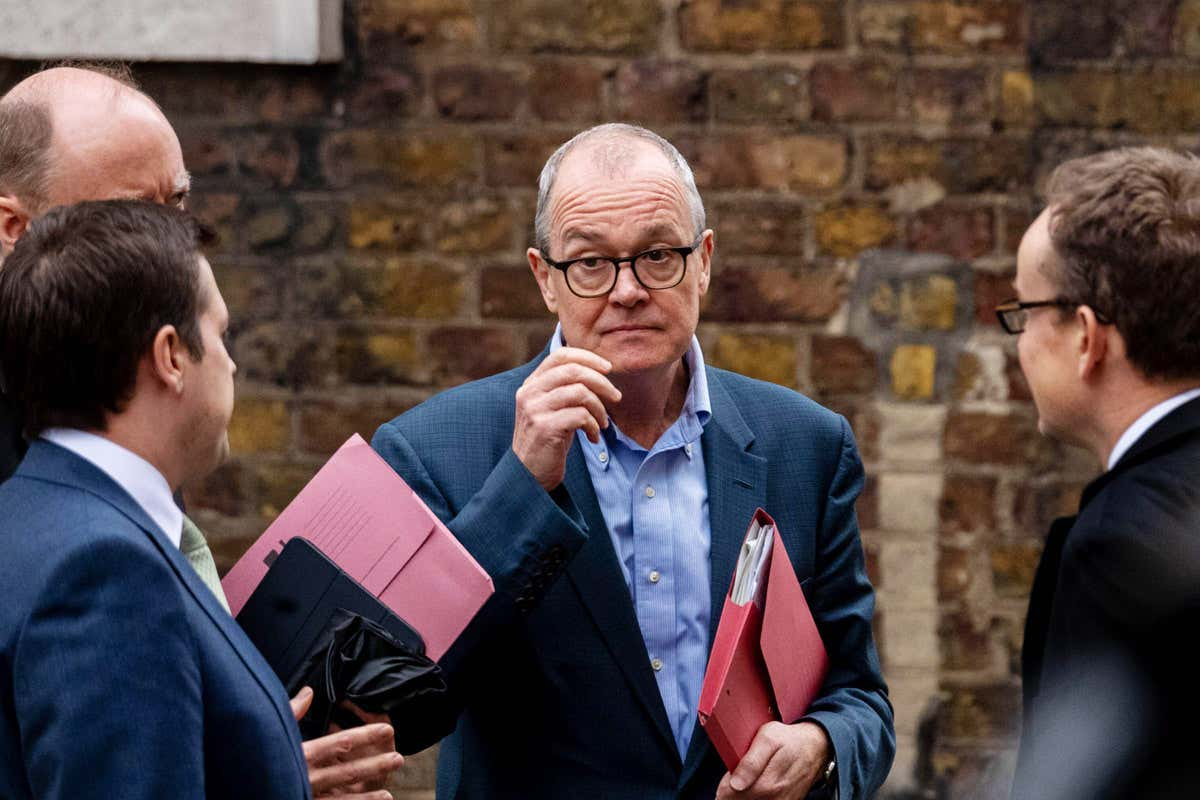 It's led by a Behavioural Insights Team behaviourist, whose nudge philosophy is about "how small changes can make big differences".
Other experts have expressed concern over the government's strategy.
"We're still making it up as we go along! Our scientific advisory committees are full of behavioural scientists and mathematical modelers. They've failed to bring in the communicable disease experts and public health experts" was director of the Institute of Health and Society Professor Allyson Pollock's summary of the government's Covid-19 response.
Professor of Virology, Deanan Pillay, criticised the lack of scientific literacy in government and the reliance on modellers. "It's a circular argument. The modellers don't include one of the key components of infection control [testing and tracing] because of political constraints and then the politicians say 'we are following the science'".
According to Dr Bharat Pankhania, the government should invite a more diverse range of experts around the top table, rather than just modellers and academics.
This could be done immediately.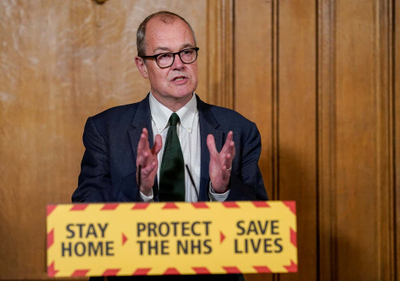 On April 9th, the Chief Scientific Advisor Sir Patrick Vallance denied that post-lockdown modelling only began in mid-March.
Discussing a Covid-19 lockdown exit strategy, Professor Allyson Pollock, said "We still have to manage the outbreaks of coronavirus in different parts of the country, locally. We need a local action team contact tracing meticulously and 'cordons sanitaires' protecting those populations".
For Professor Devi Sridhar, the best exit strategy from lockdown "would require an unprecedented action by the government as an aggressive test, trace, islate strategy"
She has called it right on Covid-19 from the start and government should invite her to advise.
A question for scientists: until now, the UK government Covid-19 strategy has been shaped by behavioural scientists and mathematical modellers.
Who else should be invited to what Doctor Bharat Pankhania calls 'the top table'?
Which virologists and public health experts would help us tackle coronavirus?
"So many people have died because politicians refused to listen to advice", said Professor Ward, a leading UK virologist.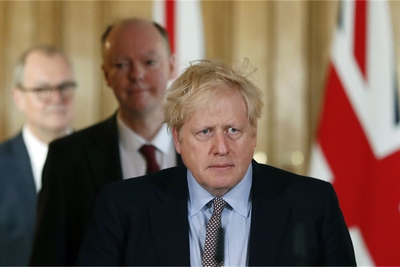 Professor Murphy, Australia's Chief Medical Officer was also critical of the UK's response, saying "If you go hard late, as the UK has done, you can just see what carnage you suffer".
Boris Johnson says he's "guided by the science" on coronavirus. The trouble is, no one knows what the science is.
Sarah Wollaston MP told the New York Times, "you can't challenge the advice if other experts can't see what they are looking at".
Dominic Cummings and Ben Warner – a data scientist he worked with on the Vote Leave campaign – have been part of the 'independent' scientific group (SAGE), advising the government on coronavirus pandemic, according to a leaked list.
There are also a lot of behaviourists and modellers in SAGE.
Discussing Herd Immunity, Professor Medley told BBC Newsnight he'd like to "put all the more vulnerable people into the north of Scotland… and everybody else into Kent and have a nice, big, epidemic in Kent, so that everyone becomes immune".
On April 21st, Professor Medley, the government's chief pandemic modeller and member of SAGE, tweeted: "Scientists advise, ministers decide".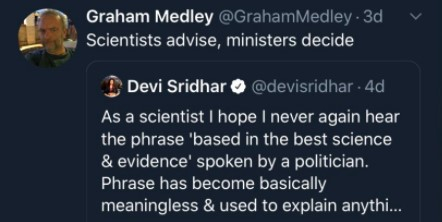 He also retweeted: "In politics, admitting a mistake is a form of weakness. It's quite the opposite in science".

Could this be about Herd Immunity?
In February, Rory Stewart told JOE, "It is irresponsible to say this is all the fault of the CMO. He did not choose that strategy. His job is to advise the government. The Prime Ministers job is to choose the strategy".
As Professor Brian Cox further explained to Andrew Marr, "There is no such thing as 'the science'. If you hear a politicians saying 'we're following the science' then what that means is that they don't really understand what science is. Science is a mindset".
Carl Sagan similarly advocated for being sceptical of those in authority.
"Science is more than a body of knowledge. It is a way of thinking; a way of sceptically interrogating the universe with a fine understanding of human fallibility".
The government's former Chief Medical Advisor, Sir David King, is bringing together experts to form an Independent SAGE panel. They will examine the main scientific decisions that have to be made, such as lifting the lockdown, with full transparency.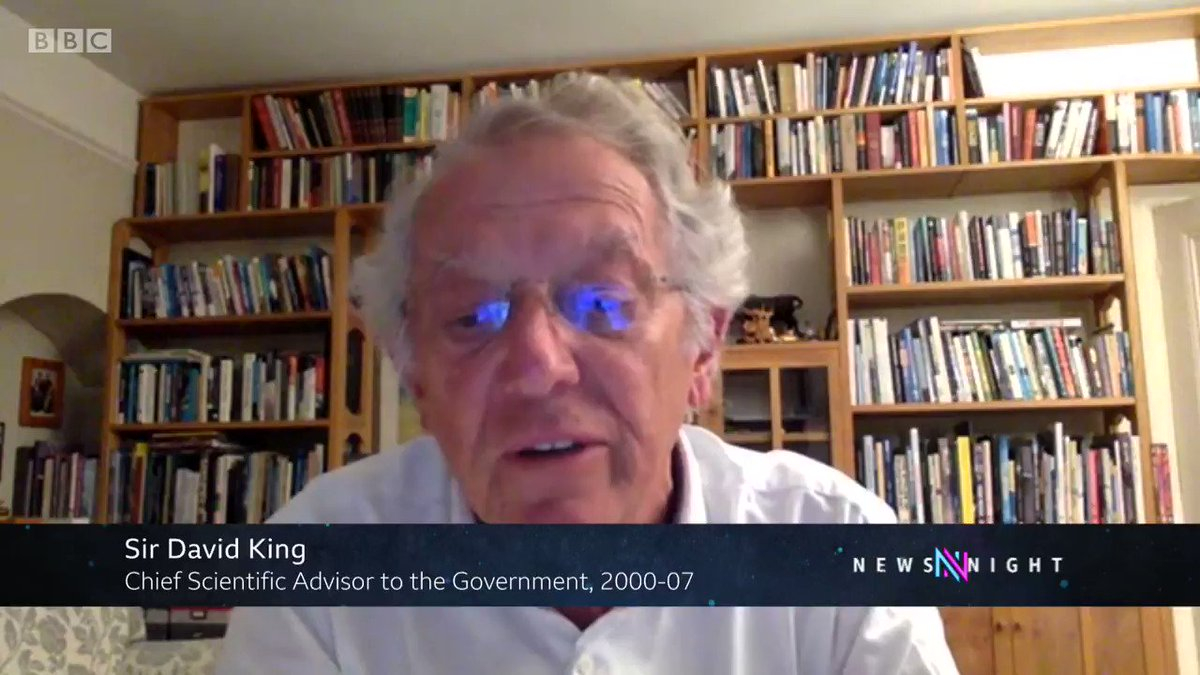 "We've arranged a society based on science and technology, in which nobody understands anything about science ad technology. And this combustible mixture of ignorance and power, sooner or later, is going to blow up in our faces", said Carl Sagan in 1986.
On May 10, Sir David King told BBC Newsnight, "It would be foolhardy to go back to work now… We should be considerably more cautious about undoing the lockdown".
"Decisions throughout the pandemic have been made by government advised by scientific advisors", Public Health England Chief Professor John Newton told the Science and Technology select committee on 22nd May.
He says the decision to take a different model" to South Korea and other countries and end community contact tracing in March was taken by ministers.